Dining In at Joe's Place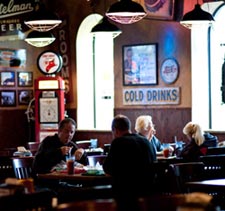 Looking for a family friendly environment where home cooking is our specialty. Come to Joe's Place and let us cater to you. Place your order, have a seat and let us bring your meal to your table. Our dining area is made for comfortable family style seating. With HD televisions in our dining area you'll never miss a game, the news or your favorite show. There is always a staff member in the dining area to assist in refilling your beverage or to change the channel. Just leave your dishes at your table; they'll come by and clear them away! With plenty of seating for everyone; our dining area features 8 private booths and 17 tables which can be moved to accommodate any size party. At Joe's Place we pride ourselves on giving exceptional service. We look forward to seeing you and your family at Joe's Place. Hope to see you soon!
Menu Favorites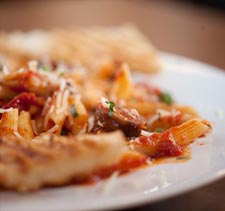 Voted #1 pizza in Marengo. Available in thin, thick, pan, butter crust or stuffed crusts. Sizes include 10", 12", 14" 16", and 18".
With our signature recipe, Joe's homemade Italian beef has been a top seller for 16 years. His Italian Beef is not made a commissary, but is made it fresh daily, hand trimmed and sliced to perfection.
Fresh cut fries. We are one of not many that believe in doing it the old fashioned way; from hand washed potatoes to hand cut our fries are the perfect match to any sandwich.
Grandma Pearl's Pulled Pork Sandwich is to die for, one bite and you're hooked!
Homemade chili and soups- made fresh in store adds a homey touch to our warm atmosphere.
Chicago style hot dogs made with Vienna beef hot dogs topped with all the traditional Chicago style toppings. (Ketchup is not included!)
Uncle Bobby's famous baby back ribs are drenched in his secret, mouth-watering BBQ sauce, that fall off the bone and melt in your mouth.
Specials
Make any sandwich into a combo deal with fries and a drink.
We offer six beers on tap, including Blue Moon and Fat Tire; plus a wide selection of bottled beer and wine.